How to be cheap @Smooching Serpents
Yes, our work is expensive. It is high quality digital art and we put a lot of thoughts and passion into each piece, so it has it's price. But there still are ways to be cheap when you're shopping with us:
1. Follow our Newsletter or join our inworld group and buy when products are 50% Off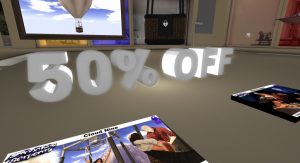 2. If you buy the 50% discounted product on the Marketplace, you can review it afterwards and receive a gift card for your review.
   (Hint: The more detailed the review, the bigger the gift card 😉
3. Use the gift card on the next 50% discount offer inworld! Yay!
4. If you want to be super cheap, you could even get our freebies from MP and review them!
5. If you want to be extremely mega cheap and have photo skills, you could apply for our artist group and receive free products every month in exchange for pictures.