as a Smooching Serpents Artist!
Share your beautiful art and receive free pre-releases in return!
How it works:
Fill in the application form at the bottom of this page and submit it to us. As work samples any kind of SL Photography, Machinima or Blog is fine.
If you qualify as a Smooching Serpents Artist, we will contact you and add you to our Smooching Serpents Artist Group inworld.
Members of this group receive 1-2 free products (freshly upgraded items or even pre-releases!) every month by touching the Gift Box Icon at the store entrance (see picture below).
When you have received the inventory folder named *Smooching Products for Photo Shoots*, your job is now to take beautiful photos of the given products while enjoying them. Have fun and be fucking creative!
Photographers: Select up to 6 pictures and drag&drop (while holding CTRL) them onto the Mailbox Icon. Format: aspect ratio 2:1, 1024dpi width, 5012dpi height, full permissions. Other formats will not be accepted. If your work is a machinima piece or a story on your blog, please drop a notecard with a link.
By dropping your artwork into our mailbox, you agree that it may be used for our advertising and promotion, and therefore re-contextualized or post processed.
If you have not distributed any artwork for over a month, you will be removed from the Smooching Serpents Artist Group. You can apply again any time.
!Attention Bloggers! If you run your own blog, you won't drop out within a month, but we're happy to have links of articles where you promoted our products every now and then.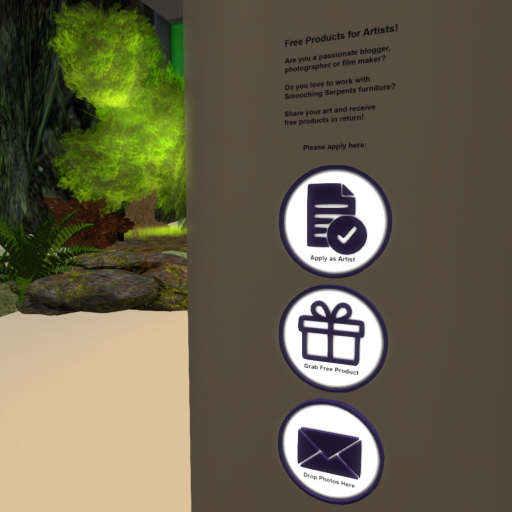 The Artwork we are looking for:
High Quality graphics, Ultra with ambient occlusion and shadows
Visibility of the product: Aside from kinky close ups, it would be nice to see the product, too!
Playing with light: Night shots or sunset/sunrise, plus local point lights set up by the artist
Playing with the design options of the piece (if it's 6 pics, use 6 different texture/color settings)
Calm backgrounds that don't compete with the product. Really cool would be a creative scene with a narration
(Or maybe I even go back to a blank background, if I see that it doesn't work out)
Diversity in avatars: 99% of SL avatars are white, heterosexual and in their twenties. I would like to have models that aren't!
Please give me people of color, LGBTs, MILFs, chubby or twiggy or even furries with crazy costumes!
(e.g. if I sell an Oriental belly dance stool, it needs a middle eastern looking dancer, not a blond one…)
Avatars shouldn't be giant or tiny though. Medium sized avatars usually fit best.
Format: aspect ratio 2:1, 1024dpi width, 5012dpi height (other formats will not be accepted)
Distributed photos have to be full permissions
If you send a video link, it must be accessible to the public and include an embed code
If you have any questions, please contact Smoochling inworld.